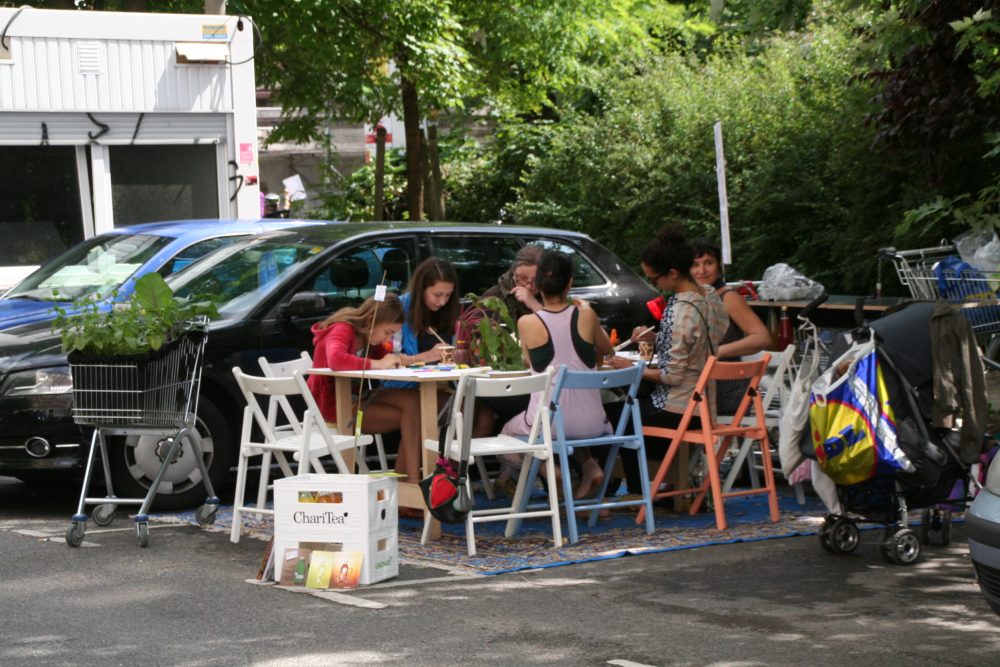 Part think tank, part community center and public gathering space, the Lab traveled from New York to Berlin to Mumbai from 2001-2014 to inspire new ways of thinking about urban life.
I ran participatory food related programming in public spaces both within the Lab structure and outside Lab. During Parking Day, we occupied a StreetSide parking space, setting up a table, kitchen and garden. Open to the public, it was a gathering point for guests and neighborhood people to come, interact and play with food to redefine the notion of an urban food-scape.
During the Lab, I also partnered with artist Andreas Gardner to provide a memory kitchen for elders of the community to cook and discuss the deep roots of heritage in recipes and food preference. Several traditional old-time recipes were chosen. We transcribed recipes for potato pancakes and invited conversation on the memory of this food and the family table. On another day, we cooked cherry dumplings, recalling the hand work of elders who have passed down these recipes for generations.
Also present was a mobile kitchen constructed from found objects from supermarket and studio waste. The kitchen occupied different spaces near and around the lab, inviting and engaging people in the process of cooking and eating, thus temporarily transforming the urban space into a social, creative, food space.
Berlin, 2012